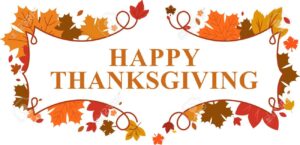 A VERY big THANK YOU to all of you who donated to our Thanksgiving list!  Our families were so appreciative of all that we were able to give them this week!  Special Thanks to Wegman's and Roche Brothers for giving us such generous gift cards to purchase our fruit and produce!
Hoping you all have a Blessed Thanksgiving with your loved ones.
We will be reopening the week of the 29th after a short ti

me off.
Flavored Quaker Instant Oatmeal (8 count)
Corned Beef Hash
Yellow Cake Mix
Mayonnaise
Ketchup
Mustard
Tin Foil
Zip Lock Bags
Toilet paper
Paper towels
Kleenex
Body wash
Peanut butter & Crackers (individual pkgs – orange)
Welch's Fruit Snacks
Gold Fish Individual Snacks
Cheeze-Its Individual Pkgs
Please use the donation bins at the back door of Fellowship Hall.
Please check expiration dates on all donations.
THANK YOU!!